Emaryllis.com, still your online Hippeastrum (amaryllis) headquarters!
That's the amaryllis I bought? So you bought an amaryllis and it bloomed…that's terrific! But wait, it doesn't look like the picture on the label or catalog, or box kit, or….you get it, welcome to our world. Every season a substantial portion of amaryllis bulbs marketed are incorrectly labeled. This might not be such a big deal were it not for the fact that these are relatively expensive bulbs, which rightly raises the expectations for quality and labeling correctness.
The intent of this site is to photograph those Hippeastrum hybrids commercially available in the U.S. marketplace…maybe you can put a name on that mystery bulb that bloomed.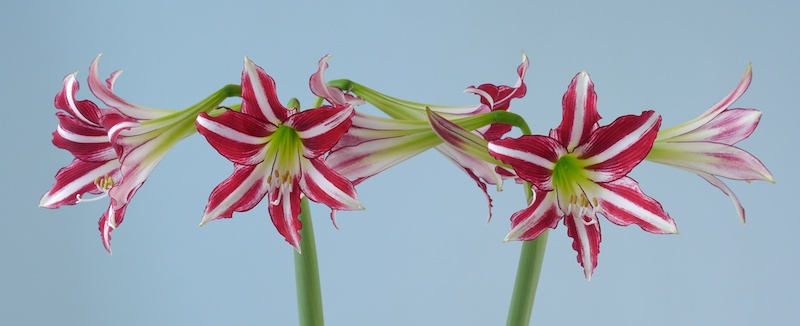 A note to longtime visitors, and newcomers as well:
If you have found this page, you know that things have changed. Unfortunately my previous web-host chose to discontinue the platform upon which my site editing depended. This resulted in the site essentially being 'bricked' starting December 10, 2012.  I was informed that there was no way to simply transfer the site whole, and that regardless, all links to the site would be broken when and if the site was re-created. This led to a period of soul searching. Rebuilding from scratch is a monumental undertaking. Not being very tech savvy hasn't helped matters! Talks with my new hosting company led to the suggestion to try to building on a WordPress framework, which is what you see now. I have a lot of learning to do, and doubtless there will be many errors made along the way. Next year will mark the 10th year of the inception of the site and purchasing of the (admittedly silly/cheeky) emaryllis.com domain name. I fully appreciate the number of visitors from The States that the site gets, but it is truly humbling to see the traffic that comes from countries the world over. Deleting the site just didn't feel right, so here goes…again!
Thanks for finding your way (back) here

Bill aka Emaryllis
April 2013, a correction in the library:
Above is a photo of what had been posted erroneously as 'Flamengo' here for some time. I hope this did not seriously harm anyone's life, if so, my apologies. While photographing a specimen of 'Tiramisu' this month, I was reminded of my troubling discovery that it had been confusingly mixed with various trade photos of 'Flamengo.' I would have sworn the above had to be the "real" 'Flamengo.' Something kept gnawing at me. I searched again through my own photos, notes, and then the various Dutch registry and image sites.
What I had received as 'Inca' a few years back turns out to be neither of the aforementioned, thoroughly confused entities. As it would seem, there was a third, unconsidered possibility. This guy has similar coloration by the book to those two (they all sound the same in reading text descriptions), but the form is more distinctly butterfly-like. I am 99% sure what I actually lucked into is 'Rio Grande,' another of Fred Meyer's crosses. Buying 'Inca' (which was never, ever provided) knowing it would be substituted, netted a surprise favorite. Perhaps someday, a grower will put some old bulbs of 'Flamengo' into the system, but today we welcome a new name (OK, a corrected name) to the library !
Below are highlights, new library entries, the latest and greatest switches and substitutes from the 2012/2013 season: